Free Concerts Redondo Beach
Free Concerts Redondo Beach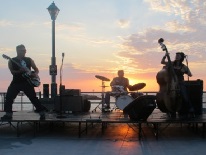 Address:
100 Fisherman's Wharf
Redondo Beach, CA 90277
Description:
The Redondo Beach Pier often has free Concert Series at the end of the Pier.  The music is free, open to the public and a great way for families to spend time at the Pier.  During the Summer the Pier hosts a Summer Concert Series which has free music on Thursdays and Saturdays.  For a schedule of upcoming performers, check back on the site and we will update the current music!
Concert Schedule:
Free Concerts on the Pier (July 5 – August 30, 2018
Thursdays & Saturdays 6:00-8:00PM (End of the Pier or International Boardwalk)
Thursday, 7/5- Tenn West (International Boardwalk)
Saturday, 7/7- Smokin' Smitty & The Masters of Music
Thursday, 7/12- The Beatunes
Saturday, 7/14- Dark Desert Highway
Thursday, 7/19- The Wild Kings (International Boardwalk)
Saturday, 7/21- CC Stugino (International Boardwalk)
Thursday, 7/26- Laurie Morvan Band
Saturday, 7/28- 1969
Thursday, 8/2- Franks and Deans
Saturday, 8/4- L.A. Swing Barons
Thursday, 8/9- King Chris
Saturday, 8/11- Danny Dean
Thursday, 8/16- Identity Theft (International Boardwalk)
Saturday, 8/18- Big Mess
Thursday, 8/23- In Contempt
Saturday, 8/25- Like Zeppelin
Thursday, 8/30- Strange Days
All pier events are weather permitting, and concert schedule is subject to change.