Kincaid's Redondo Beach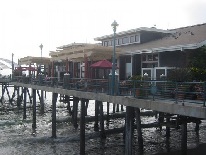 Address:
500 Fisherman's Wharf
Redondo Beach, CA 90277
P- 310-318-6080
Description:
Kincaid's Redondo Beach sits atop the Pier and offers stunning ocean views. The restaurant has an outdoor patio which is perfect for lunch or a warm day. The restaurant serves seafood and steak in a cozy relaxed atmosphere.
Hours:
Lunch: Daily 11am-4pm
Dinner: Monday-Saturday 4pm-10pm, Sunday 4pm-9pm
Dine Early Menu: Monday-Thursday 3pm-6pm
Breakfast: Saturday and Sunday 11am-3:30pm
Happy Hour: Daily 3pm-6:30pm and 9pm-close.
Cuisine
American (Seafood, Pasta, Meat)
KINCAID'S LUNCH MENU:
Oven Roasted Crab And Artichoke Dip- served with warm bread $15.75
Country Fried Calamari- artichoke hearts, mustard-garlic aioli, bloody Mary cocktail sauce $12.95
Fresh Seasonal Oysters- bloody Mary cocktail sauce, blistered lemon $14.95
Coconut Prawns- Cajun marmalade, Napa slaw, sweet potato fries $12.95
Grilled Teriyaki Tenderloins- spicy pineapple, sticky rice, daikon sprouts, sweet soy glaze $13.95
Jumbo Prawn Cocktail- spicy chili aioli, bloody Mary cocktail sauce $15.95
Starter Salads
Maytag Blue Cheese- romaine, chopped eggs, slivered almonds $8.95
Hearts Of Romaine Caesar- Caesar dressing, olive oil croutons, shaved asiago $8.95
Broadway Pea Salad- water chestnuts, bacon, creamy pepper dressing $6.95
Iceberg Lettuce Wedge- bacon, deviled egg, Monterey jack, choice of dressing $7.95
Organic Mixed Greens- Maytag blue cheese-pecan spring rolls, radish, bell peppers, fennel, tomatoes, balsamic reduction $9.95
Starter Salad Add Ons
make any starter salad an entree with one of the following:
Grilled Jumbo Prawns- $6.95
Citrus-herb Chicken Breast- $4.95
Herb-rubbed Fresh Salmon- $5.95
Housemade Soups
Our bisque and chowder are finished tableside.
New England Clam Chowder- caramelized leeks, bacon $8.95
Chef's Seasonal Soup- $7.95
Lobster Bisque- butter-poached lobster, crème fraîche, fresh herbs $9.95
French Onion Soup- caramelized onions, brandy, Swiss, aged parmesan $8.95
Entrée Salads
Smoked Chicken Cobb- hearts of romaine, Maytag blue cheese, artichoke hearts, bacon, deviled egg, avocado, red wine vinaigrette
$14.95
Seafood Louie- Dungeness crab, poached jumbo prawns, artichoke hearts, asparagus, deviled egg, housemade 1000 island dressing $20.95
Grilled Maple Chicken- organic mixed greens, Maytag blue cheese-pecan spring rolls, sliced apples and pears, candied pecans, maple vinaigrette $15.95
Grilled Smoked Sirloin Salad- organic mixed greens, red bell pepper, fennel, red radishes, Maytag blue cheese, spiced pecans, balsamic reduction $18.95
Lunch Combos
Soup & salad combo – $13.95, sandwich or pasta with soup or salad – $14.95
Salads- iceberg lettuce wedge, hearts of romaine Caesar, Maytag blue cheese
Sandwiches1/2 open-faced crab sandwich, 1/2 turkey club, 1/2 over-stuffed pastrami sandwich
Soups- New England clam chowder, chef's seasonal soup, French onion soup
Pastas- Red or white sauce fettuccine, penne with sun-dried tomatoes & pesto cream, rigatoni Bolognese
Sandwiches & Sliders
All sandwiches come with choice of housemade potato chips or French fries. substitute sweet potato or bacon-asiago fries – $1.95
Open-faced Crab Sandwich- Artichokes, tomatoes, parmesan, cheddar on toasted sourdough $15.95
Turkey Club- Fresh avocado, bacon, tomatoes, lettuce, mayo, Dijon mustard on whole wheat $12.95
Prime Rib French Dip- garlic butter, horseradish, housemade jus on French bread $15.95
Over-stuffed Pastrami Sandwich- Swiss cheese, French fries inside, whole grain mustard on toasted rye $13.95
Chophouse Burger- All-natural hormone free hand-formed patty, grilled onions, 1000 island dressing, choice of Swiss, brie, blue, or cheddar cheese on a brioche bun. $13.95 Add Thick-cut Bacon $1.95
Petite Chophouse- a smaller version of the chophouse burger $11.95
Grilled Salmon Sliders- artichoke tartar, pickled fennel, crispy fried capers $15.95
Steak And Crab Sliders- smoked sirloin, Dungeness crab, béarnaise $16.95
Pasta
Cajun Chicken Fettuccine- Andouille sausage, creole seasoning, Cajun-style tomato sauce $15.95
Rigatoni Bolognese- spicy Italian sausage, pear tomato, roasted red peppers, garlic cream $15.95
Penne With Sun-dried Tomatoes- pesto cream sauce, garlic confit, asiago $13.95
Wild Mushroom Ravioli- roasted mushrooms, crushed red pepper, gremolata, parmesan cheese and cream $15.95
Fettuccine With Red Or White Sauce- made with fresh spinach, tomatoes, garlic, parmesan and your choice of housemade marinara or cream sauce $11.95
Pasta Pairing
pair your pasta with any of the following:
Grilled Jumbo Prawns- $6.95
Citrus-herb Chicken Breast- $4.95
Andouille Sausage- $2.95
Herb-rubbed Fresh Salmon- $5.95
Entrees
Beer Battered Fish And Chips- pacific cod fillets, locally selected artisan beer batter, malt vinegar, housemade artichoke caper tartar sauce $16.95
Roasted Chicken Dijon- asiago, mashed Yukon potatoes, wilted spinach and bacon leek relish $15.95
Pan Seared Crab Cakes- warm herb-tomato frisée salad, scallop butter sauce $19.95
BBQ Baby-back Ribs- sweet potato fries, chipotle Napa slaw
$19.95
Fresh Mussels Cioppino- tomato-wine broth, fresh basil, garlic, fries $13.95
Steamed Fresh Clams- white-wine broth, chili flakes, garlic, fries
$15.50
Crispy Cod Tacos- avocado salsa, chipotle-lime sour cream, corn tortillas $14.95
Grilled Smoked Sirloin- applewood smoked, mustard garlic aioli, fries10 oz. $22.95
KINCAID'S DINNER MENU:
Premium Meats & Poultry
Kincaid's sources only the finest cuts from local and national purveyors of top quality beef, providing a truly unique steak experience. add Dungeness crab & béarnaise $9.95, add petite lobster tail $15.95
Rock Salt Roasted Prime Rib- mashed Yukon potatoes, herb jus, spicy horseradish, seasonal vegetables. our prime ribs are slow roasted all day under a mountain of rock salt, rubbed w/ fresh garlic and herbs, charred under extreme heat that results in a superior crust
Petite Cut $29.95 Regular Cut $35.95 Kincaid's Cut $39.95
Seared Peppercorn Crusted New York Steak- maytag blue cheese, brandy-peppercorn sauce, roasted Yukon gold potatoes
$40.95
Char-grilled Filet Mignon- smoked mushrooms with truffle oil, mashed Yukon potatoes, brandy-mustard sauce
Petite Cut $39.95 Large Cut $46.95
Grilled Smoked Sirloin- applewood smoked, mustard garlic aioli, fries $28.95
Braised Boneless Short Ribs- red wine marinated, roasted wild mushrooms, mashed Yukon potatoes, natural jus $27.95
Bacon Wrapped Meatloaf- roasted wild mushrooms, mashed Yukon potatoes, seasonal vegetables, brandy-mustard sauce
$19.95
Char-grilled Chophouse Burger- all-natural hormone free hand-formed patty, smoked truffle mushrooms, aged cheddar, thick bacon, brioche bun $16.95
BBQ Baby-back Ribs- cornbread mac n' cheese, sweet potato fries, chipotle Napa slaw $27.95
Twice-roasted Fresh Herb-stuffed Chicken- mashed Yukon potatoes, roasted mushrooms $24.95
Roasted Chicken Dijon- asiago, garlic, mashed Yukon potatoes, wilted spinach and bacon leek relish $20.95
Signature Shellfish
Seafood Étouffée- prawns, fresh mussels, clams, Atlantic scallop, Andouille sausage, sautéed seasonal greens, cheese grits $29.95
North Atlantic Lobster Tail- served with grilled asparagus, mashed Yukon potatoes, melted butter for dipping, blistered lemon $40.95
Seafood Louie Salad- grilled salmon, Dungeness crab, poached jumbo prawns, deviled egg, housemade 1000 island dressing $26.95
Seared Fresh Jumbo Atlantic Scallops- sautéed seasonal greens, mashed Yukon potatoes, Ahi tuna tartare, tobiko caviar, preserved lemon butter sauce $30.95
Pasta
Pan Seared Shellfish Fettuccine- jumbo prawns, fresh mussels, clams, scallops, baby spinach, fresh tomatoes, smoked salmon cream sauce $27.95
Wild Mushroom Ravioli With Braised Short Rib- fresh spinach, tomato, chili flakes, garlic cream sauce, red wine and veal jus reduction $21.95
Smoked Chicken Penne- asiago, garlic confit, sun-dried tomatoes, pesto cream sauce $19.95
Rigatoni Bolognese- spicy Italian sausage, pear tomatoes, roasted red peppers, garlic cream $18.95
Land & Sea Combos
Grilled Smoked Sirloin & Jumbo Prawns- yukon potatoes au gratin, grilled asparagus, lemon-thyme seasoning $37.95
Rock Salt Roasted Prime Rib & Grilled Salmon- yukon potatoes au gratin, grilled asparagus, herb jus, spicy horseradish $43.95
Char-grilled Filet Mignon & Petite Lobster Tail- smoked mushrooms with truffle oil, grilled asparagus, Yukon potatoes au gratin, brandy-mustard sauce, melted butter for dipping $54.95
Cold Appetizers
Fresh Seasonal Oysters- bloody Mary cocktail sauce, mignonette, blistered lemon $14.95
Fresh Smoked Salmon- crème fraîche, preserved lemon, cornichons, cucumber, potato chips $9.95
Smoked Beef Carpaccio- truffle oil, cornichons, sourdough mustard toast $10.95
Jumbo Prawn Cocktail- wine poached, spicy chili aioli, bloody Mary cocktail sauce $15.95
Hot Appetizers
Oven Roasted Crab And Artichoke Dip- served with warm bread $15.75
Country Fried Calamari- artichoke hearts, mustard-garlic aioli, bloody Mary cocktail sauce $12.95
Pan Seared Crab Cakes- warm herb-tomato frisée salad, scallop butter sauce $18.95
Warm Brie With Macadamia Nut Crust- orange-blossom honey, sliced apple, balsamic reduction, fruit compote $12.95
Steamed Fresh Clams- white wine broth, chili flakes, garlic, French bread $12.95
Fresh Mussels Cioppino- tomato-wine broth, fresh basil, garlic, French bread $10.95
Oven Roasted Oysters Rockefeller- herb bread crumbs, spinach, bacon $15.95
Grilled Teriyaki Tenderloins- spicy pineapple, sticky rice, daikon sprouts, sweet soy glaze $13.95
Kincaid's Tasting Sampler- oven roasted crab & artichoke dip, grilled teriyaki tenderloins, coconut prawns $29.95
Starter Salads
Maytag Blue Cheese- romaine, chopped eggs, slivered almonds $8.95
Hearts Of Romaine Caesar- Caesar dressing, olive oil croutons, shaved asiago $8.95
Broadway Pea Salad- water chestnuts, bacon, creamy pepper dressing $6.95
Iceberg Lettuce Wedge- bacon, deviled egg, Monterey jack, choice of dressing $7.95
Organic Mixed Greens- Maytag blue cheese-pecan spring rolls, radish, bell peppers, fennel, tomatoes, balsamic reduction $9.95
Housemade Soups
our bisque and chowder are finished tableside
New England Clam Chowder- caramelized leeks, bacon $8.95
Chef's Seasonal Soup- $7.95
Lobster Bisque- butter-poached lobster, crème fraîche, fresh herbs $9.95
French Onion Soup- caramelized onions, brandy, Swiss, aged parmesan $8.95
Wine By The Glass
White
Domaine Ste Michelle, Brut, WA- 6oz. $8.25
Ruffino, Prosecco, IT- 6oz. $10.00
Roederer Estate, Brut, Anderson Valley CA- 6oz. $12.50
Ménage À Trois, Moscato, CA- 3oz. $4.25 6oz. $7.75
Chateau Ste Michelle, Dry Riesling, Columbia Valley, WA 3oz. $3.75 6oz. $7.00
St Hallett Poacher's Blend, Semillon, Sauv Blanc, Riesling, AU- 3oz. $4.25 6oz. $8.00
Estancia, Pinot Grigio, CA- 3oz. $5.25 6oz. $9.25
Yalumba Y Series Pinot Grigio-, AU- 3oz. $4.75 6oz. $8.75
Villa Maria, Sauvignon Blanc, Marlborough, NZ- 3oz. $4.75 6oz. $8.75
Kincaid's House White – Columbia Crest Two Vines, Chardonnay, WA- 3oz. $4.00 6oz. $6.95
Edna Valley Vineyard, Chardonnay, San Luis Obispo County, CA- 3oz. $5.25 6oz. $9.25
Kendall-Jackson Vintner's Reserve, Chardonnay, CA- 3oz. $6.25 6oz. $10.00
Lioco, Chardonnay, Sonoma County, CA- 3oz. $6.50 6oz. $12.50
Sonoma-cutrer, Chardonnay, Russian River Ranches, CA- 3oz. $7.75 6oz. $14.00
Red
Murphy-Goode, Pinot Noir, CA- 3oz. $4.50 6oz. $8.50
Byron, Pinot Noir, Santa Barbara County, CA- 3oz. $6.75 6oz. $11.50
Erath, Pinot Noir, OR- 3oz. $7.25 6oz. $12.50
Clos Du Bois, Merlot North, Coast, CA- 3oz. $5.25 6oz. $9.25
14 Hands, Merlot, WA- 3oz. $4.25 6oz. $7.75
Black Beret, Grenache-Syrah, FR- 3oz. $4.75 6oz. $8.75
Enrique Foster Ique, Malbec, Mendoza, AR- 3oz. $4.25 6oz. $7.75
Ravenswood, Zinfandel, Lodi County, CA- 3oz. $5.75 6oz. $9.50
Charles And Charles, Red Blend, (cab Sauvignon, Syrah), WA- 3oz. $4.50 6oz. $8.50
Kincaid's House Red – Avalon, Cabernet Sauvignon, CA- 3oz. $4.00 6oz. $6.95
Chateau St Jean, Cabernet Sauvignon, CA- 3oz. $5.25 6oz. $9.25
(noble Vines) 337, Cabernet Sauvignon, Lodi, CA- 3oz. $6.50 6oz. $10.50
Joel Gott 815, Cabernet Sauvignon, CA- 3oz. $6.75 6oz. $12.00
Arrowood, Cabernet Sauvignon, Sonoma, CA- 3oz. $8.75 6oz. $16.00
Brew
Draft
Strand Pale Ale, Torrance, CA- $5.75
Ballast Point Seasonal, San Diego, CA- $6.50
Stone Seasonal, Escondido, CA- $5.75
Widmer Hefeweizen, Portland, OR- $5.75
Widmer Seasonal, Portland, OR- $5.75
Deschutes Seasonal, Bend, OR- $5.75
Redhook Long Hammer Ipa, Woodinville, WA- $5.75
Blue Moon Belgian White, Golden, CO- $5.75
Coors Light, Golden, CO- $5.00
Sam Adams, Boston, MA- $5.75
Kona Longboard Lager, Kona, HI- $5.75
Victoria Pilsner, Mexico- $6.00
Newcastle Brown Ale, England- $5.75
Guinness Stout, Ireland- $6.00
Stella Artois, Belgium- $6.00
Bottled
Widmer Omission Lager (gluten Free), Portland, OR- $6.00
Deschutes Black Butte Porter, Bend, OR- $5.75
Budweiser, St. Louis, MO- $5.25
O'doul's Non-alcoholic, St. Louis, MO- $5.25
Angry Orchard Hard Cider, Cincinnati, OH- $5.75
Corona Extra, Mexico- $5.75
Corona Light, Mexico- $5.75
Heineken, Holland- $6.25
Beck's Non-alcoholic, Germany- $5.75
Specialty Cocktails
We proudly offer the following specialty cocktails inspired by our partnership with Woodford Reserve Kentucky Bourbon
Golden Manhattan- Woodford Reserve Private Blend, honey liqueur, sweet vermouth, Bing cherry- $13.95
Light N' Sunny- Woodford Reserve Private Blend, cucumber, housemade ginger beer, fresh lime sour- $11.55
Woodford Reserve Private Blend- neat or on the rocks $10.95
Martinis
Vesper- Bombay gin, grey goose vodka, lillet blanc- $10.95
Pomegranate- Ketel One Citroen vodka, pomegranate, fresh lime sour- $9.95
Elderflower- Tito's vodka, St. Germain, fresh sweet and sour, Hendrick's gin- $10.95
Lavender Cosmo- Absolut Mandrin vodka, Marie Brizard parfait amour, fresh lime sour, lavender sugar- $9.55
Grape Vine- Cîroc vodka, St. Germain, fresh lemon sour, splash of sparkling wine- $11.55
3 Berry Cosmo- Absolut Berri Açaí vodka, Chambord, fresh lime sour, cranberry- $9.25
Lemon Drop- Absolut citron vodka, cointreau, limoncello, fresh lemon sour- $9.55
Specialties
Scratch Margarita- El Jimador 100% agave tequila, triple sec, housemade margarita mix, lime- $9.55
Grand Scratch Margarita- Milagro 100% agave tequila, Cointreau, Grand Marnier, housemade margarita mix- $10.55
Blueberry Crush- Stoli Bluberi vodka, muddled blueberries, fresh sweet and sour- $8.95
Dark And Stormy- Mount Gay Eclipse Rum, housemade ginger beer, fresh lime- $8.95
New Classics
Pink Lemonade- Finlandia grapefruit vodka, limoncello, grenadine, fresh lemon sour- $8.55
Spiced Long Island Iced Tea- Captain Morgan spiced rum, Smirnoff vodka, Hendrick's gin, el Jimador 100% agave tequila, Cointreau, fresh lemon sour- $9.25
Ultimate Mai Tai- ten cane and Myers's dark rums, Cointreau, fresh lime, orange and pineapple juices, orgeat syrup- $9.75
Moscow Mule- Smirnoff vodka, housemade ginger beer, fresh lime, served in a traditional copper cup- $7.95
Mojitos
Classic- Bacardi superior rum from Puerto Rico- $8.75
Pomegranate- ten cane rum from Trinidad- $10.25
Mango- Bacardi O rum from Puerto Rico- $8.75
Passion Fruit- Malibu passion rum from Barbados- $8.95
Raspberry- Cruzan raspberry rum from St. Croix- $8.55
Red Bull & Vodka- your choice of original, sugar-free, cranberry or blueberry red bull paired with vodka and a twist- $8.50