Barney's Beanery Redondo Beach
Barney's Beanery Redondo Beach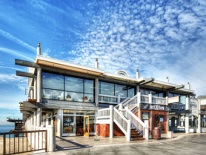 Address:
100 Fisherman's Wharf
Redondo Beach, CA 90277
Phone– 424-275-4820
Hours:
Mon-Th- 10am-1:30am
Fri-Sat- 9am-2am
Sunday- 9am-1:30am
Description:
The iconic Route 66 Roadhouse from the 1920's is now at the forefront of the Redondo Beach Pier. Having opened their sixth location, Barney's sits in-front of the "Redondo Landing." Barney's Beanery has over 40 beers on tap and 140 bottles to wash down their World Famous Chili. Where else can you order a Chili Sampler? Barney's Beanery is packed with TV's, so it's fast become a popular spot as well as a solid place for breakfast, lunch or dinner!
Cuisine:
Breakfast, Soups, Salads, Sandwiches, Burgers, Mexican
Happy Hour:
Monday thru Friday, 4pm-7pm
$3 Drafts, $4 Well Drinks, 1/2 priced appetizer menu
Weekly Specials:
$6.95 Lunch Specials- Monday thru Friday 11:30am-3pm
Monday:
All Day Happy Hour
Tuesday:
Taco Tuesday; $1 Tacos (beef or chicken), Mexican Beer specials ($3 draft, $3.50 bottles)
Wednesday:
Wild Wednesday; Buy one Barney's Specialty Cocktail, get the 2nd for $1.
Trivia Night, 8pm
Thursday:
Thirsty Thursdays; $6 25oz mugs of Barney's Brew, Coors Light, Bud Light, PBR and Rolling Rock.
Karaoke; 9pm with DJ Soul Cole
Friday:
Fun Friday; $5 Barneys Burger with fries and $4 Bud, Bud Light and Michelob Ultra Aluminum Bottles.
Saturday and Sunday:
Beach Weekend Wakeup; 9am-2pm $3 Bloody Mary's and $10 Bottomless Mimosas
Barney's Beanery Menu:
Breakfast (served all day)
Barney's Breakfast- eggs, hash browns toast or tortilla $7.95
Breakfast Bagel- scrambled eggs, bacon, melted cheese and hash browns $8.50
Mish-Mosh- scrambled eggs, salami, bacon, cheese, onion, spinach, mushroom, hot pepper, hash browns and toast or tortilla $10.75
Eggs Benedict- English Muffin, Canadian bacon, poached eggs, homemade hollandaise, has browns, fresh, berries $10.50
Eggs Florentine- English muffin, spinach, poached eggs, homemade hollandaise, hash browns, fresh berries $10.95
Breakfast Burrito- potato, bacon, onion, chile verde, cheese, scrambled eggs, sour cream, salsa $9.50
Chilaquiles- tortilla chips, scrambled, eggs, cilantro, queso fresco, red chile sauce, rice, refried beans, sour cream, guacamole $9.50
Hueveos Rancheros- sunny-side up eggs, ranchero sauce, onion, cilantro, queso fresco, rice, refried beans, sour cream, guacamole, corn tortillas $9.50
Mexican Breakfast- enchilada, red chile sauce, cheese, eggs, rice, refried beans (cheese $9.95) (chicken $10.95) (carne asada or chipotle beef $11.95)
Toad in a Hole- fried egg, Texas style toast, cheddar bacon, has browns $11.95
Protein and Eggs- eggs, choices of side, toast or tortilla (corned beef hash $9.50) (Carne asada $11.00) (chicken, $10.00) (chorizo $9.75) (chili $8.75)
Omelets or Scrambles (served with hash browns and toast)
Barney's- classic chili, cheese and sour cream $11.25
Ranchero- chorizo, tomato, bell pepper, cheese, salsa, guacamole, sour cream, ranchero sauce $10.50
Pilates- egg white, chicken breast, mushroom, spinach, feta $13.00
Irish- corned beef, sour cream, chive, cheese, hash browns $10.50
Veggie- spinach, mushroom, tomato, bell pepper, onion $10.50
Western- ham, bell pepper, onion, mushroom, cheese $10.75
Greek- tomato, onion, Kalamata olives, spinach, bell pepper, feta $10.50
California- avocado, bacon, tomato, chile verde, sour cream, cheese $10.75
From the Griddle
Buttermilk Pancakes- syrup, butter $7.50
Pancake Combo- eggs, bacon, sausage $10.50
Bacon Stuffed Pancakes- syrup, butter $9.25
Waffle- syrup, butter (one $7.00) (two $12.00)
Waffle Combo- eggs, bacon, sausage $10.50
French Toast- syrup, butter $7.50
French Toast Combo- eggs, bacon, sausage $10.50
Blueberry Stuffed French Toast- cream cheese, blueberries, syrup $10.00
Sides
Tomatoes, Cottage Cheese- $1.75
Red Bean, Black Beans or Refried Beans- $2.00
Spanish Rice- $3.00
Mashed Potatoes, Hash Browns, Fresh Saufeed Veggies, Salad $4.00
Season Fries, Onion Rings $4.95
Bakes Potato $4.00
Mac & Cheese $4.25
Berries $3.25
Sweet Potato Fries $5.95
Appetizers
Hot Wings- Buffalo, sweet and spicy or Barney's Honey Glaze
6- $6.00
12- $12.00
15- $15.00
Barney's Appetizer Combo- chili cheese fries, Cajun shrimp, onion rings, jalapeno poppers, mozzarella cheese steaks $11.25
Jalapeno Poppers- ranch $9.50
Buffalo Chicken Quesadilla- Breaded Chicken, cheese, grilled onions, bleu cheese, buffalo sauce, sour cream $10.00
Crispy Calamari- cocktail sauce, tartar sauce, lemon $8.25
Mini Barney's Burgers- caramelized onion, pickle, American cheese, lettuce, tomato, barney's sauce $8.50
Chips & Salsa- $3.00 (guacamole +$3.00)
Buffalo Chicken Tacos- breaded chicken breast, cabbage, Buffalo sauce, bleu cheese, ranch, salsa $11.00
Fish & Chips- cocktail sauce, tartar sauce, lemon $11.95
Nacho Mama's Nachos- tortilla chips, black beans, cheese, sour cream, guacamole, salsa (chicken $11.25) (carne asada or chipotle beef $13.25)
Half Time Nachos- tortilla chips, black olives, lettuce, cheese, classic chili, sour cream, guacamole, salsa $9.75 (1/2 off during happy hour)
Irish Nachos- potato, cheese, sour cream, jalapeno, guacamole, salsa, chili or beans $8.75 (1/2 off during happy hour)
Taquitos- guacamole, sour cream, jalapeno salsa, chicken or beef and pickle $6.95 (1/2 off during happy hour)
Mac & Cheese Poppers- original $7.50; jalapeno and bacon $9.50 (1/2 off during happy hour)
Mozzarella Sticks- marina sauce $7.50 (1/2 off during happy hour)
Crispy Chicken Fingers- tossed or on the side buffalo, sweet and spicy, Barney's honey glaze $9.50; French fries +$1.50 (1/2 off during happy hour)
Fried Pickles- ranch $6.25 (1/2 off during happy hour)
Pretzel Sticks- honey mustard $7.50; cheese sauce $8.50 (1/2 off during happy hour)
Potato Skin or Baked Potato
Bacon and cheese- $7.50
Mushroom, spinach and cheese $8.25
Classic Chili and cheese- $8.75
Cajun chicken, ranchero sauce, cheese $9.75
Mushroom, onion, bell pepper, cheese, chicken or beef- $9.75
Famous Chili
Famous Chili Sampler- classic, Texas-style, turkey, fireman's, vegetable, jalapeno cheese corn muffins, onions, cheese, sour cream $11.50
The "Classic" since 1920- all beef chili perfection $6.75 jumbo, $4.50 cup, $3.00 side
Turkey- pinto beans, roasted pasilla chile, corn $6.75 jumbo, $4.50 cup, $3.00 side
Vegetable- summer vegetables, black bean, tomato $6.75 jumbo, $4.50 cup, $3.00 side
Texas-style- beef, chili, beer $7.75 jumbo, $5.50 cup, $4.00 side
Fireman's- braised beef, black bean $7.75 jumbo, $5.50 cup, $4.00 side
Chili with Spaghetti and Beans- soup or salad $10.25
Chili Cheese Fries- French fries, choice of chili, cilantro, fresh jalapeno, cheese (classic, turkey or vegetable $7.00) (Texas-style or fireman's $8.00)
Sandwiches
(Comes with a choice of side)
Soup and Sandwich Combo- $7.75
Soups (Chicken Noodle, French Onion, New England style Clam Chowder, Chili +$0.50)
Sandwiches (Grilled Cheese, Tuna Salad, Chicken Salad, BLT, Turkey, Salami)
Philly Cheese Steak- mushroom, bell pepper, onion, jack, beef or chicken on a bun $11.25
BBQ- coleslaw, BBQ sauce, chipotle mayo, beef, pork, or chicken on a bun $11.50
Roasted Vegetable- zucchini, bell pepper, red onion, avocado, arugula, pickled carrot, pickled onion, cream cheese, on toasted cranberry walnut bread $11.25
Tuna of chicken salad- lettuce, tomato on wheat $8.50
Sourdough Turkey- bacon, grilled onion, avocado, Swiss $10.50
Sourdough Chicken- bacon, grilled onion, chile verde, Jack $10.50
Melts
Avocado, grilled onion, tomato, jack on rye $9.75
Blackened chicken, grilled onion, jack on rye $11.25
Parmesan Brie Melt- chicken breast on sourdough $10.50
Tuna Salad or Chicken Salad Melt- grilled onion, American Cheese on rye $9.75
Buffalo Chicken- breaded chicken breast, Buffalo sauce, mayo, lettuce, tomato on a bun $11.25
Barney's Reuben- sauerkraut, Swiss Cheese, 1000 Island, pastrami or corned beef on rye $10.50
Classic Club- turkey, bacon, cheddar, tomato, lettuce, Barney's Sauce on toasted white $11.50
Super Swiss Club- ham, turkey, Swiss, tomato, lettuce, Barney's Sauce on toasted rye $11.50
Fried Chicken Club- bacon, cheddar, tomato, lettuce, Barney's sauce on toasted white $12.50
Hamburgers and Hot Dogs
(Burger Patty Choice Instead of Beef +$2.25- black bean patty, turkey patty or chicken breast)
Barney's Burger- two beef patties, caramelized onion, pickle, cheese, tomato, lettuce, Barney's sauce $8.50 (no patty substitutions)
Patty Melt- grilled onion, cheese, rye $9.95
Mexi- chile verde, grilled onion, avocado, tomato, lettuce, queso fresco, chipotle mayo $11.00
Pastrami- Swiss, tomato, lettuce, Barney's Sauce $10.95
Ultimate- applewood smoked bacon, caramelized onion, tomato, arugula, bleu cheese, Barney's sauce $13.00
Philly- onion, mushroom, bell pepper, jack, tomato, lettuce $10.50
DBC- two burger patties, BBQ sauce, onion straw, applewood smoked bacon, American , tomato, lettuce $15.00
Danger- giant burger, bacon, onion rings, cheese, tomato, lettuce Barney's sauce $22.00
Build a Burger- tomato, lettuce $8.00 +charge for additional toppings
Juicy Lucy- stuffed with American Cheese, grilled onion, tomato, lettuce, Barney's Sauce $9.95 (no patty substitutions)
Chili Burger- choice of chili, lettuce, tomato (classic, turkey or vegetable chili $11.00) (Texas style or fireman's chili $12.00)
Classic Chili Dog- $12.00 cheese +$1.00; guacamole +$2.75
Giant Hot Dog- $9.00 with cheese +$1.00
Champagne Breakfast- chili, cheese, hot dog, bottle of Dom Perignon $250.00
Soups
New England Style Clam Chowder- jumbo $5.50, large $4.50, cup $3.25
Chicken Noodle- jumbo $5.50, large $4.50, cup $3.25
French Onion- jumbo $5.75, large $4.75, cup $3.50
Sourdough Bowls
(comes with small salad)
Chicken Noodle- $8.25
New England Style Clam Chowder- $8.50
French Onion- $8.50
Classic Chili- $9.00
Vegetable Chili- $9.00
Turkey Chili- $9.00
Texas Style Chili- $10.00
Fireman's Chili- $10.00
Salad
(comes with garlic cheese toast)
Dressings (Ranch, Bleu Cheese, Italian, Balsamic, Lemon Vinaigrette, Honey Mustard, Caesar, Ginger Lime, Oil and Vinegar)
California Chopped- turkey, avocado, bacon, tomato, brie, jack, cheddar, mixed greens, ranch- Regular $12.95, Bitty Bean $9.95
Classic Cob- chicken, bacon, avocado, egg, tomato, carrot, bell pepper, crumbled bleu cheese, mixed greens, ranch- Regular $12.95, Bitty Bean $9.95
Southern Fried Chicken- corn, onion, cucumber, bell pepper, carrot, mixed greens, honey mustard- Regular $12.95, Bitty Bean $9.95
Caesar- tomato, crouton, parmesan, romaine lettuce, Caesar Dressing- Regular $12.95, Bitty Bean $9.95, Cajun Chicken +$3.00
Greek- Kalamata olives, onion, cucumber, tomato, feta, roasted pepper, celery, mixed greens balsamic- Regular $12.95, Bitty Bean $9.95
Grilled Vegetable- Portobello mushroom, zucchini, red onion, spinach, sun-dried tomato, bell pepper, parmesan, arugula, lemon vinaigrette- Regular $12.95, Bitty Bean $9.95
Italian Chopped- salami, olive, tomato, roasted pepper, basil, sun-dried tomato, parmesan, mixed greens, Italian dressing- Regular $12.95, Bitty Bean $9.95
Fiesta- chicken, tomato, olive, cilantro, cheese, guacamole, sour cream, salsa, tortilla chips, mixed greens, ranch- Regular $12.95, Bitty Bean $9.95
Barney's House Salad- seasonal fresh vegetables $4.50
Rocket- grilled chicken, red onion, tomato, pine nuts, roasted red peppers, arugula, lemon vinaigrette- Regular $12.95, Bitty Bean $9.95
Pizza and Calzones
Margherita- tomato, basil, mozzarella, parmesan, olive oil- Regular $15.50, Bitty Bean or Calzone $9.50
Route 66 Combo- pepperoni, sausage, bell pepper, onion, mushroom, mozzarella- Regular $18.50, Bitty Bean or Calzone $12.50
Hawaiian- Canadian bacon, pineapple, mozzarella- Regular $17.00, Bitty Bean or Calzone $11.00
Greek- bell pepper, onion, Kalamata olives, tomato, feta, mozzarella- Regular $18.50, Bitty Bean or Calzone $12.50
Mushroom- (white pizza) button and Portobello mushroom, caramelized onion, mozzarella, parmesan, ricotta- Regular $17.00, Bitty Bean or Calzone $11.00
BBQ Chicken- red onion, mozzarella, BBQ sauce- Regular $17.00, Bitty Bean or Calzone $11.00
Grilled Veggie- Portobello mushroom, onion, bell pepper, zucchini, roasted garlic, mozzarella, sun-dried tomato- Regular $18.50, Bitty Bean or Calzone $12.50
Pepperoni- Regular $15.00, Bitty Bean or Calzone $9.00
Buffalo Chicken- (white pizza)- breaded chicken breast, Buffalo sauce, ranch, bleu cheese- Regular $16.50, Bitty Bean or Calzone $11.50
Johnnie's Favorite- pepperoni, mushroom, jalapeno, cilantro, mozzarella- Regular $18.00, Bitty Bean or Calzone $12.00
Build Your Own Pizza- Regular $13.00, Bitty Bean or Calzone $8.00
Regular Pizza Toppings- Regular $1.50, Bitty Bean or Calzone $1.00
Mushroom, Onion, Bell Pepper, Fresh Tomato, Zucchini, Garlic, Fresh Basil, Extra Cheese, Pineapple, Jalapeno, Olive, Cilantro, Broccoli, Scallion, Spinach
Special Pizza Toppings- Regular $2.50, Bitty Bean or Calzone $2.00
Pepperoni, Bacon, Chicken, Shrimp, Meatball, Salami, Roasted Pepper, Feta, Anchovy, Ground Beef Sausage, Canadian, bacon, Bleu Cheese, Sun Dried Tomato
South of the Border (a-la-carte with salsa)
Taco- grilled scallion, lime, cilantro, cabbage
Grilled Vegetable- $2.00 each
Grilled Beef, Chicken- $2.50 each
Grilled Shrimp- $4.00 each
Grilled Fish- $4.00 each
(roasted pineapple +$0.25)
Tacos Al Pastor- grilled pork, roasted pineapple, onion, lime $2.50 each
Braised Chipotle Taco- grilled scallion, avocado, cabbage, cilantro, onion (beef, chicken, pork) $2.50 each
Tostada- crispy tortilla, refried beans, avocado, onion, cilantro, lettuce, tomato, queso fresco, sour cream
Grilled Vegetable- $3.00 each
Grilled or braised beef, chicken, pork $3.50 each
Grilled Shrimp- $4.00 each
Quesadilla- grilled scallion, cheese, sour cream
Grilled Vegetable $8.00 each
Grilled or braised beef, chicken, pork $9.50 each
Grilled Shrimp- $11.00 each
Burrito- potato, onion, cheese, red chile sauce, sour cream, black beans, Spanish rice
Grilled Vegetable $8.00 each
Grilled or braised beef, chicken, pork $9.50 each
Grilled Shrimp- $11.00 each
Fajita- onion, bell pepper, cilantro, tomato, sour cream, guacamole
Grilled Vegetable $9.00 each
Grilled or braised beef, chicken, pork $10.50 each
Grilled Shrimp- $12.00 each
Tres Enchiladas- red chile sauce, cheese, sour cream, guacamole
Grilled Vegetable $9.00 each
Cheese $9.50 each
Grilled or braised beef, chicken, pork $10.50 each
Grilled Shrimp- $12.00 each
Chimichanga (fried burrito)- potato, cheese, sour cream, refried beans, Spanish rice
Grilled Vegetable $9.00 each
Grilled or braised beef, chicken, pork $10.50 each
Grilled Shrimp- $11.00 each
Grilled Taco Party Platter (builds 24 tacos)- cabbage, onion, cilantro, roasted jalapeno, roasted pineapple, scallion, lime, corn tortillas, four coronas $45.00 shrimp +$10.00
Refried beans and Spanish rice +$2.50
Fresh Avocado or Guacamole +$1.75
Roasted Pineapple +$0.25
Fresh Jalapeno +$0.75
Bitty Bean (smaller portions)
Mish-Mosh- scrambled eggs, salami, bacon, cheese, onion, spinach, mushroom, hot pepper, hash browns, toast or tortilla $7.75
Huevos Rancheros- sunny-sideup eggs, ranchero sauce, onion, cilantro, queso fresco, rice, refried beans, sour cream, guacamole, corn tortillas $6.50
Toad in a Hole- fried egg, Texas style toast, cheddar, bacon, hash browns $8.95
Buttermilk Pancakes- syrup, butter $4.50
French Toast- syrup, butter $4.50
Jalapeno Poppers- ranch $6.50
Crispy Calamari- cocktail sauce, tartar sauce, lemon $5.25
Mini Barney's Burgers- caramelized onion, pickle, American cheese, lettuce, tomato, Barney's sauce $4.50
Fish & Chips- cocktail sauce, tartar sauce, lemon $8.95
Roasted Vegetable- on toasted cranberry walnut bread, zucchini, bell pepper, red onion, avocado, arugula, pickled carrot, pickled onion, cream cheese, choice of side $8.25
Tuna or Chicken Salad- on wheat, lettuce, tomato, choice of side $5.50
Tuna Salad or Chicken Salad Melt- on rye, grilled onion, American choice of side $6.25
Beverages
Soda- Lemonade, Root Beer, Sprite, Coke, Diet Coke, Orange Soda, Ginger Ale, Club Soda, Tonic Water- $2.75
Bundaberg Ginger Beer $5.50
Iced Tea- $2.50
Mineral Water- $3.50
Bottled Water- $2.50
Cranberry, Tomato, or Apple Juice $2.75
Pineapple Juice $3.75
Grapefruit Juice- $4.75
Red Bull or Sugar Free $4.50
Blueberry Red Bull $4.50
Hot Chocolate (Whipped Cream) $2.50
Hot Tea $1.95
Regular Coffee or Decaf Coffee $1.75
Iced Coffee $2.50
Espresso $2.00
Cappuccino $3.50
Vanilla Latte $4.00
Desserts
Smores $5.95
Coolhaus Ice Cream Sandwich $6.00
Sundaes $5.95
Barney's Apple Pie- pie, melted cheddar, ice cream $5.50
Berry Shortcake $5.00
Warm Chocolate Cake- $5.500
Banana Split $6.50
Milk Shake or Malts- vanilla, strawberry or chocolate $4.75